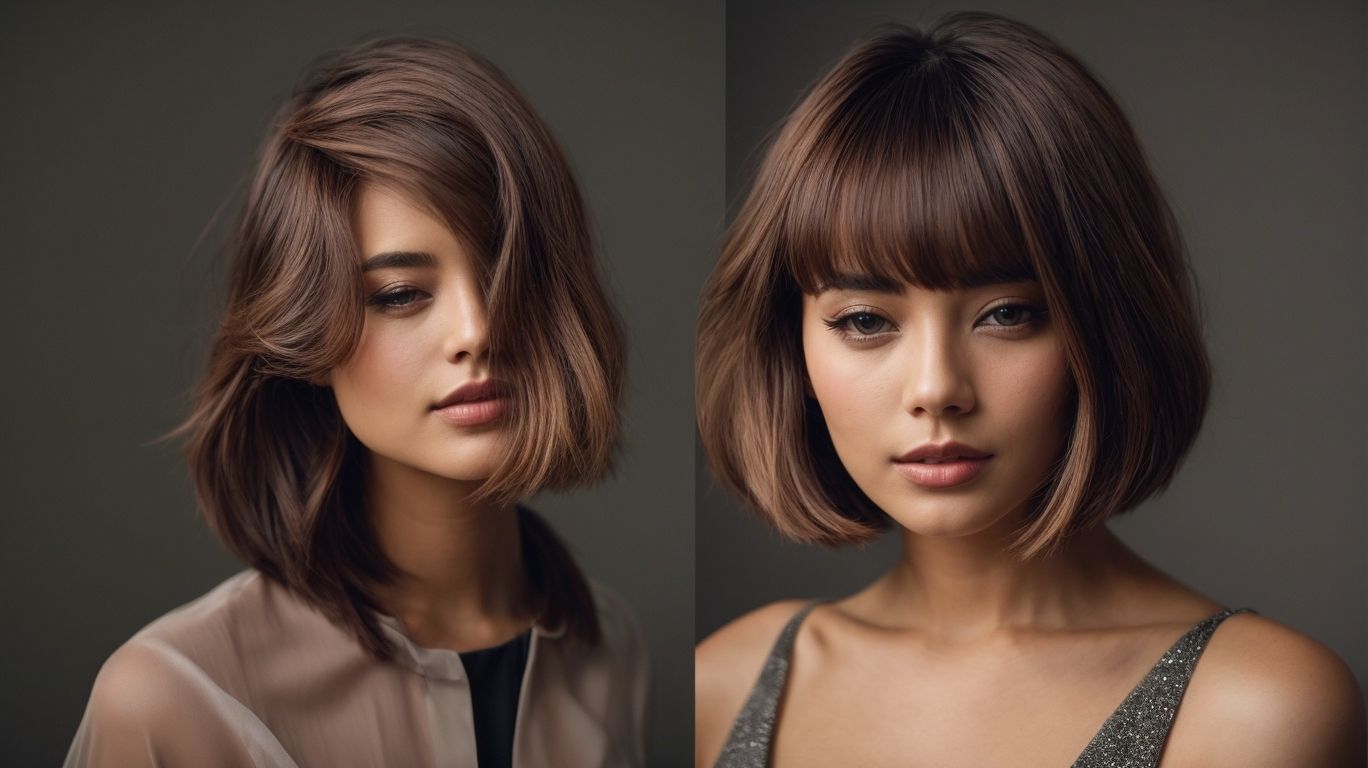 The bob haircut has lasted through time, looking great on all face shapes. It's versatile and timeless! From round, square, oval, or heart-shaped faces, there's a bob style for everyone. Here's 10 great ones!
The classic bob looks amazing on most face shapes. It's chin-length and blunt cut, adding structure and definition. Plus, it works with both straight and wavy hair types.
For those with round faces, the angled bob is perfect. It's shorter layers in the back and longer strands in the front give an elongating effect.
Square faces should try the textured bob. It's choppy layers and tousled waves soften angles, adding movement and volume.
Did you know the term "bob" came from WWI when women cut their hair short as a symbol of independence? Even now, it's still popular with celebrities and everyday people. There's a bob style to suit everyone's unique face shape and style!
Bob Haircuts for Oval Face Shape
Bob haircuts are flexible and can be tailored to any face shape. But, for an oval face shape, there are specific bob haircuts that work best. Here are some tips:
Look at the length. An oval face suits both short and long bob haircuts. Length should flatter your facial proportions.
Think about layers. Layers can add volume and texture, making the face look more balanced.
Bangs! Incorporating bangs can soften features and provide dimension.
Style up. Tousle or curl to create movement and body, drawing attention to the structure of your face.
When considering a bob haircut for an oval face, keep these points in mind for a stylish look. And, the versatility of the bob allows for experimenting with different styles.
Fun fact: Beyoncé and Rihanna often go for variations of the bob haircut to suit their oval faces.
Bob Haircuts for Round Face Shape
Round faces can look amazing with a perfectly tailored bob. Here are some trendy and timeless styles to flatter your round face shape:
A chin-length bob with layers adds definition and angles to soften the roundness.
An asymmetrical bob, shorter in the back and longer in the front, creates an illusion of length.
Textured waves or curls add body and movement, balancing out the roundness.
A graduated bob, shorter in the back and gradually getting longer towards the front, elongates the face.
A blunt bob, just below the jawline, creates a sleek and elegant look.
For added effect, try a deep side part to create asymmetry and a slimming effect. Side-swept or layered bangs, instead of straight-across ones, add a flattering frame.
These styles work by adding dimension and movement, creating angles, adding volume, and creating clean lines. Now, you're ready to choose a bob that flatters your beautiful round face shape!
Bob Haircuts for Square Face Shape
Bob haircuts for square face shapes are an awesome way to show off your facial features. These haircuts will bring out the best in your square face and make a balanced, harmonious look. Here are some amazing bob haircuts that suit square faces:
The classic chin-length bob is great. It'll soften the angles and add a touch of femininity.
A long bob with layers is a perfect choice. It'll add texture and movement while flattering the square face shape.
Be daring and go for an asymmetrical bob. This haircut will draw attention away from the strong jawline, and onto other facial features.
For shorter styles, a pixie bob is ideal. It'll frame the face well and highlight the cheekbones.
To make it even better, why not add side-swept bangs or soft waves to your bob? These elements will add dimension and soften the angles of your square face shape.
When considering bob haircuts for square face shapes, it's important to remember that personal taste matters. Some may want shorter bobs, others may prefer longer lengths. Personal preference should be taken into account when choosing a hairstyle.
Here's an inspiring story about one woman who found her ideal bob haircut for her square face shape. Sophia had trouble finding a flattering haircut. After many trips to the hairdresser and trying different styles, she found the perfect fit: a chin-length bob with layers. As soon as she saw herself in the mirror, she knew it was the right choice. She felt more beautiful and confident than ever, all thanks to this timeless bob haircut.
Bob Haircuts for Heart Face Shape
Bob haircuts are stylish and trendy, and they can also be customized for different face shapes. Here, we'll talk about amazing bob haircuts for heart-shaped faces.
Achinaha Bob: Chin-length style with soft layers. Ideal for heart-shaped faces.
Asymmetrical Bob: Uneven length and angles to balance out the prominent jawline.
Blunt Bob with Bangs: Minimizes the width of the forehead while highlighting the eyes.
Layered Bob: Adds movement and softens the angles of the face.
For heart-shaped faces, it's important to create balance. These bob haircuts can do that by minimizing the width of the forehead, and adding volume at the chin.
Let's take a look at some unique details about these haircuts:
Heart-shaped faces often have a wide forehead and narrow chin. Achinaha Bob frames the jawline and softens facial features. Asymmetrical Bob balances out the wide forehead and narrower chin. Blunt Bob with Bangs draws attention away from the forehead. Layered Bob adds texture and movement for a softer look.
Did you know? Heart-shaped faces are sometimes referred to as "inverted triangle" face shapes due to their resemblance to an upside-down triangle.
Bob Haircuts for Diamond Face Shape
Bob haircuts for diamond face shapes can really show off your jawline and cheekbones! They frame your face nicely, making its angles stand out. Here are 3 great bob styles that will look stunning on your diamond-shaped face:
A chin-length bob with side-swept bangs can soften the sharp edges of a diamond face. The bangs draw attention to your eyes and balance the wider cheekbones with the narrower chin.
A layered bob with extra volume at the crown will make the upper part of your face appear less angular. This style emphasizes your cheekbones and adds movement to your look.
An asymmetrical bob with longer strands on one side will create an illusion of width, evening out your diamond-shaped face. This edgy cut will draw attention away from any sharp facial features.
For an even more distinct look, add highlights or lowlights that suit your skin tone. These subtle touches can show off your structure even more.
Take Lisa, for example. She had a diamond-shaped face and was always looking for the right hairstyle. Finally, she decided to try a bob her stylist suggested. To her surprise, the bob changed her look completely! It highlighted her facial structure and made her best features stand out. Since then, Lisa has embraced her diamond face shape and loves to experiment with different bob styles.
So, if you have a diamond-shaped face and want to try a trendy hairstyle that flatters your features, give one of these bob haircuts a go! Finding the perfect haircut is all about showing off your natural beauty and celebrating the things that make you special.
Bob Haircuts for Oblong Face Shape
Bob haircuts are a hit with women of oblong face shapes. This look gives an illusion of width and balances out longer faces. Here are some Bob Haircuts to suit an oblong face:
The chin-length bob – classic and perfect for oblong faces. Adds volume to the jawline, creating a wider look.
The layered bob – layers bring texture and movement, making an oblong face more balanced. Short layers round the cheeks, long layers at the ends.
The asymmetrical bob – trendy and great for oblong faces. Asymmetric cut brings visual interest and breaks up the length of the face.
For more pizzazz, add bangs – side-swept or blunt. These soften facial features and divert attention from the length of the face.
When styling, use volumizing products for fullness and body. Curling or creating waves also add width.
Now that you know which Bob Haircuts flatter oblong faces, pick one that suits you best. Try different lengths and textures until you find the perfect Bob that highlights your beauty.
Fun Fact: The Bob Haircut has been a hit since the 1920s when Coco Chanel made it a must-have. Since then, Bob Haircuts have evolved, but they remain timeless choices for any age.
Bob Haircuts for Triangle Face Shape
Bob haircuts for triangle face shape are designed to flatter this facial shape. They balance out the wider jawline and narrower forehead. Here are some points to consider:
Short Bob: Draws attention away from the jawline.
Angled Bob: Softens the sharp angles of a triangle face.
Layered Bob: Adds volume to the top of the face.
Side-Swept Bangs: Minimizes the width of the forehead.
Consult with your hairstylist for tailored haircuts. Elevate your style and embrace a new look today!
Bob Haircuts for Pear Face Shape
A bob cut can be a lifesaver for a pear-shaped face. It will help show off your features and balance out your look. Here are some options:
Soft Layers: Soft layers can make a jawline appear less angular.
Side-Swept Bangs: Side-swept bangs and a bob go together to give you a balanced look.
A-Line Bob: An A-line bob brings volume to the upper face, balancing out the wider jawline.
Chin-Length Bob: This will create the illusion of a shorter, narrower face shape.
To make the most of your bob haircut, remember this:
Pro Tip: Don't choose cuts that draw attention to the width of your jawline, like blunt cuts or super short bobs. Instead, select styles that give your upper face volume and length.
Conclusion
Bob haircuts are a classic look that flatters any face shape. With their variety and ability to enhance features, there's a bob haircut for everyone. From a classic blunt bob to an edgy asymmetrical one, these styles can change your look and raise your confidence.
These 10 bob haircuts suit different face shapes, to make sure everyone can find a style that works for them. Round-faced people should try a longer bob with layers, giving an elongating effect. Square-faced individuals can go for a shorter, sleek bob to soften their angular jawline.
Oval-faced folks can pull off almost any bob haircut. Options range from chin-length bobs to shoulder-length styles. Heart-shaped faces look great with chin-length bobs and soft layers, or side-swept bangs to add balance and dimension.
Diamond-shaped faces are the most enigmatic. For this rare beauty, a textured bob with layering around the face is perfect. Oblong faces get width and fullness with a collarbone-length bob.
Don't miss out on transforming your look with one of these timeless bobs. Experimenting with different styles not only lets you show off your natural features, but also gives you a chance to find your own signature look. So go ahead, book an appointment and let your creativity shine!